5 CONSIDERATIONS TO IMPROVE YOUR ORGANISATION
---
2021 is a big year for mental health first aid in the workplace.
We've previously discussed the guidelines and assessment considerations for general first aid in places of employment, but there is an area that is still sometimes neglected by organizations when considering the welfare of the team: emotional wellbeing.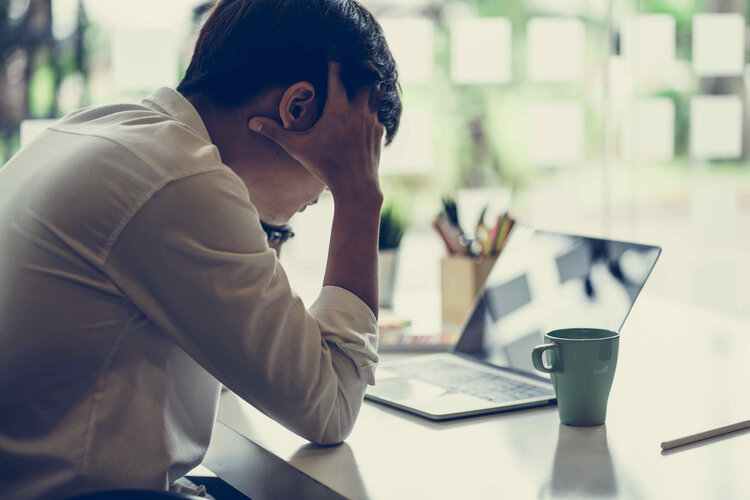 Below, we set out some of the key considerations when looking to promote better mental health in your team.
EMPLOYEES ABILITY TO EVALUATE THEIR MENTAL HEALTH
If someone hasn't sought support for mental health issues, there's a chance that they don't really know how to recognise their issues, whether that be processing their thoughts and feelings, or being confident on what mental illness they may be affected by.
Different mental illnesses can share symptoms and subsequent behaviour, and therefore it's important for people to gain clarity on what they are feeling. Rethink Mental Illness has compiled a list of symptoms and how to get the ball rolling with support in the UK. As an employer, you can signpost the team to this content, and let them know what to watch out for both at work and otherwise.
It's not a case of laziness; only in recent years are schools in the UK starting to really promote mental health wellbeing. For the case of those in the workplace currently, they may not have received this level of support and information whilst in school.

EMPLOYEES MAY NOT TAKE OWNERSHIP OF THEIR OWN MENTAL HEALTH
People may be more inclined to book a doctor's appointment when addressing a physical symptom than a mental health issue. Of course, with workplace stress accounting for X amount of global fatalities per year, the line formerly drawn between physical and mental health is now being exposed as redundant.

Of course, while seeking professional support is ultimately up to the individual, it can cost organisations dearly. Deloitte claimed that poor mental health costs UK employers up to £45 billion each year, through a number of factors including stress-induced leave and poor performance. More concerning still is that the report was published in January 2020 – showing a 16% rise in since 2016 – or an extra £6 billion per year – and that was before the first UK lockdown.

Promoting a workplace culture whereby mental health is valued not only gains the admiration and respect of staff, but it can also support your bottom line.

THERE IS STILL A STIGMA
Therefore, many people may not seek help, or participate openly in activities in the workplace designed to support their mental health as they may not want to show 'weakness', or 'make a fuss'. Of course, we are making progress here, and mental health does feel like something that is genuinely on the table now as a society – but it's still by no means a welcome subject for many.
Fortunately, there are ways to combat the stigma. Mind and other mental health organisations have great content around actionable ways to deal with stigma that can be echoed through the company culture you hope to create.


SERVICES ARE STRETCHED
It can be easy to assume that 'if someone wants mental health support, they can get it off their own back'. While the NHS and associated groups do a fantastic job of supporting mental health issues, they can't support everyone, all of the time. There are now 4.95 million people waiting for general treatment through the NHS in England alone – and this is reflected in mental health service demand. It's the largest waiting list since records began, and private counselling and other treatment can be expensive.

Some employees may also fall into the trap of comparing their struggles with others, and therefore neglect support as they don't feel they need and/or deserve it as much as others. While this all sounds pretty bleak, as a leader you can provide some options for your staff.

HOW YOU CAN HELP?
In the same way you can provide healthy food options at work but can't stop staff eating too many sweets and crisps, you can't take sole responsibility. Employees have agency and their own choices to make. What you can do is provide the support – along with the encouragement and safety to take advantage of it.
There is so much fantastic information online from reputable sources and health professionals in 2021. Be sure to create a bank of content that staff can access when looking to improve their mental health at work and otherwise.

There is an abundance of content on how to improve your employees' mental health, such as BreatheHR's '5 ways you can support your employees' mental health', written in reflection of 2020 lockdowns. Mind has created a brilliant document, 'How to support staff who are experiencing a mental health problem' which also dives into creating a culture of openness, boundaries and workplace adjustments. You can view that here.

If you want to go the extra mile and tackle the challenge practically, we're proud to offer a dedicated 1 Day Mental Health Awareness First Aid Course which you can view here.

CLOSING THOUGHT
As more of us return to our work, it's vital that employees provide a positive environment for their team – the rewards are certainly there to do so.